A question I get asked a lot is "How can I learn how to screen print?"
I'm going to share a print project you can do at home that will also teach you an easy way to start screen printing without a lot of expensive equipment. 
One of my favorite mediums to screen print on are vintage dictionary pages. They are great to give as gifts!
Here's as list of supplies you will need:
Vintage dictionary paper. Do a quick search on Etsy and you'll find a lot of choices! Pay attention to the size of the paper.
Screen printing ink. Speedball ink works great. I will sometimes mix colors to get the shade I want.
Screen printing squeegee
Silk screen made with your art
Clamps and a board to make a press
MAKING YOUR ARTWORK SCREEN 
The easiest way to get a screen made (and what I do myself) is have a screen printing shop make one for you! I use a company called Athem Screen Printing. 
You will need to send them high-res line art. Visit this web page to learn more about artwork requirements. Make sure you have sized your artwork to fit the size of the print you want to make. I usually try to make my artwork fit in a 9x9 square...this size works for a lot of different projects (prints, t-shirts, tea towels, etc.)
This will be the biggest investment you make, but you can potentially make hundreds of prints off a single screen.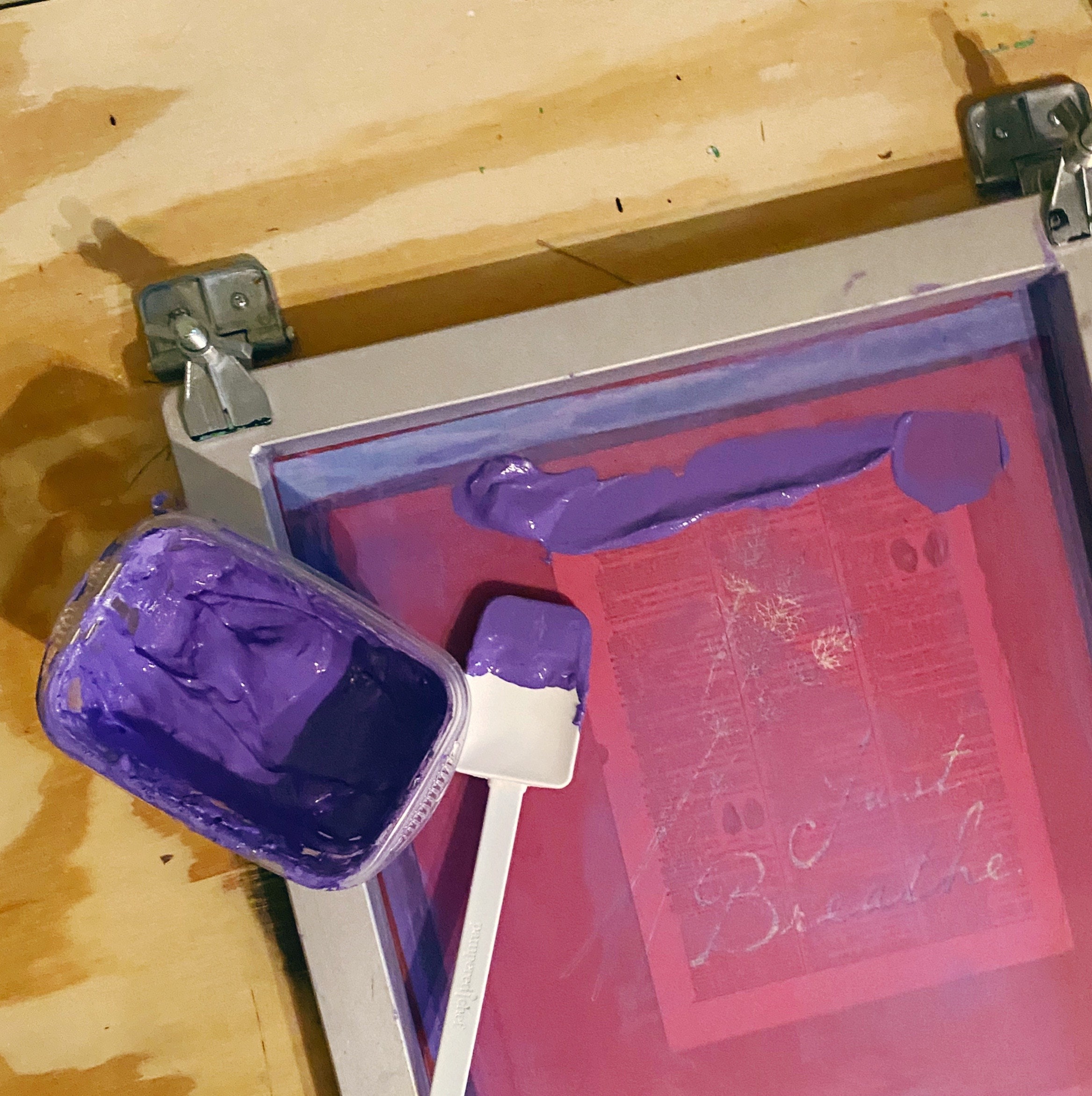 MAKING A SCREEN PRINTING PRESS
The easiest and most affordable way to make yourself a "press" is to purchase screen printing hinge clamps and attach them to a board. This is my simple setup--I attached the clamps to a peice of plywood that covers a work table in my craft room. 
HOW TO PRINT
Once you have your screen and your press ready to go, time to start printing! This is very easy once you get the hang of it. Start by positioning a sheet of paper under your screen. Spread a little ink on to your screen, take your squeegee, and push the ink over your image. You may want to "flood" your screen with ink before printing on your paper (I always do this when printing on cloth.) You should only need to do one pass for a paper print. You may want to practice on some printer paper before using your vintage dictionary paper.
Prints air dry really easily and quickly. Just set them aside to dry for about 20 minutes! Note: if you are printing on cloth, such as a t-shirt, you will need to heat set the ink. A heat gun will work. (I have a professional flash dryer, but no need to invest in one of these unless you plan on doing a lot of screen printing work.)
Questions? I'm always happy to help! Contact me any time!